2016 FMA Excellence Awards
24th May 2016
The Floodplain Management Australia Excellence Awards are designed to publicly recognize the outstanding contribution of FMA organisations and individuals towards promoting wise land use planning, reducing flood impacts, managing flood incidents or restoring communities after a flood event.

The 2016 Winners of the FMA Excellence Awards are:
Allan Ezzy Flood Risk Manager of the Year
Pictured (from left): FMA President Ian Dinham, Drew Bewsher (Bewsher Consulting) and Allan Ezzy (FMA Immediate Past President).
Drew Bewsher, Bewsher Consulting, is the winner of the nation-wide 2016 Allan Ezzy Flood Risk Manager of the Year Award.
This Excellence Award aims to recognise and promote the invaluable work
individuals
are doing to make their communities safer in the realm of flood risk management (FRM).
Drew's career of over 30 years has included the preparation of over 30 FRM studies and plans, and 20 development control plans for Councils across NSW. This level of dedication to FRM is to be recognised and commended.
As part of his work, Drew has supported and trained a number of floodplain managers who continue to work in the FRM space, which is invaluable to the future of the industry.
"Congratulations to Drew on his outstanding contribution to FRM over the years, and his unwavering drive to improve the resilience of communities from all around the nation," FMA President Ian Dinham said.
FMA-NRMA Insurance Flood Risk Management Project of the Year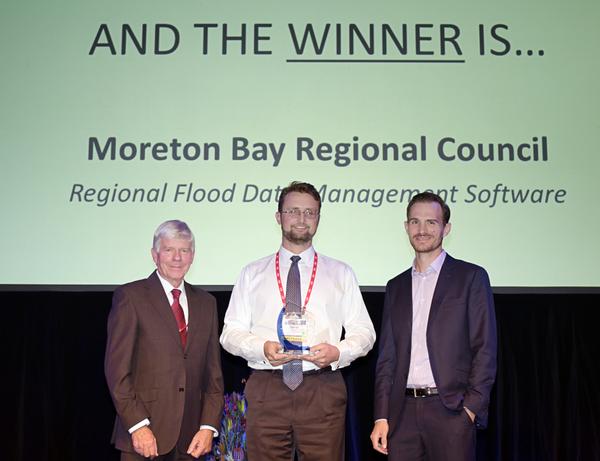 Pictured (from left): FMA President Ian Dinham, Steve Rosso (representing Moreton Bay Regional Council) and Nick Bartzis (NRMA Insurance).
Moreton Bay Regional Council was presented with the Flood Risk Management Project of the Year Award for its Regional Flood Data Management Software project.
This project focussed on developing an automated flood data management and report generating system. The new system integrates region-wide data from across 14 catchments, and enables the Council to produce timely, clear and consistent flood data reports for every property in the region.
By automating the flood data management process, the Council has dramatically increased the number of flood data reports they can produce each year, and individuals can create their own reports via the Council's website.
Through the project, Moreton Bay Regional Council is able to respond quickly to requests for flood reports and is increasing accessibility to information and awareness of flood risks within the community.
As the winner of the Excellence Award, Moreton Bay Regional Council received $2,500 from NRMA Insurance to continue their important work.
NRMA Insurance Chief Executive, Anthony Justice, said the need to effectively manage and reduce the impact of flooding is of national importance.
"All too often we see the devastating impact floods can have on our communities, highlighting the need for more effective floodplain management activities," Mr Justice said.
"It's important to recognise and support organisations that work to help make our communities safer, stronger and more resilient. That's why we're proud to support the FMA NRMA Insurance Excellence Award."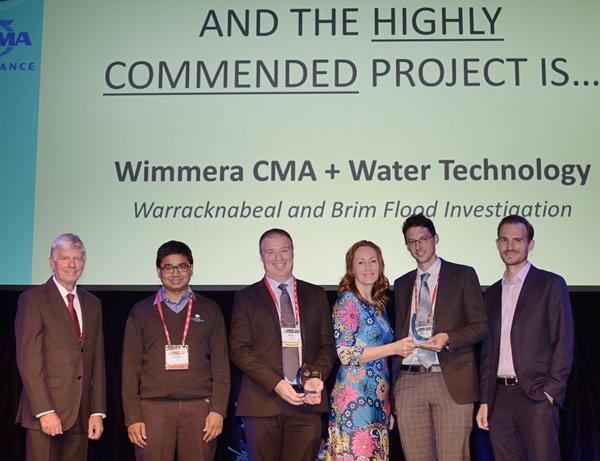 Pictured (from left): FMA President Ian Dinham, Abdul Aziz (Wimmera CMA), Paul Fennell (Wimmera CMA), Clare Wilson (Wimmera CMA), Ben Tate (Water Technology) and Nick Bartzis (NRMA Insurance).
Wimmera Catchment Management Authority in conjunction with Water Technology received a High Commendation for their project Warracknabeal and Brim Flood Investigation.
The project focussed on producing historical flood mapping and building a levee for the Yarriambiack Creek, a distributary of the Wimmera River. The historical flood mapping was used to form the basis of the levee design to protect the Warracknabeal community from 1-in-100 year floods.

The project consisted of extensive community consultation activities, which included holding community forums, producing social media campaigns and creating a steering committee to ensure a coordinated approach was taken. Through the project, Wimmera CMA and Water Technology have increased awareness of, and resilience to flood risks in the Yarriambiack community.
FMA President Ian Dinham said "We're pleased to commend Wimmera CMA and Water Technology on their project and encourage them to continue their work in order to create more opportunities to manage flood risks."
Congratulations and thank you to all those who submitted nominations for the 2016 FMA Excellence Awards. These Awards provide the opportunity to showcase the incredible work that professionals are doing within the flood risk management space, and that work should be recognised. We look forward to hearing more about your projects in our next round of the Awards in 2017.
In the meantime, should you have any projects that you feel would be of interest to our Members, please contact Dominique Jovanovic at projectservices@floods.org.au.